11/06/2007
7"EP split with Malfeitor
War Arts Productions have released a split 7"EP between AMOK and Malfeitor.
This gatefold 7"EP is released in 666 handnumbered copies.
AMOK contributes with the track "Piledriver". The track was written in 2002, just after the release of the "LAVA Dictatorship" demo, and recorded in 2005 during the summer solstice.










This 7"EP can be ordered through the MERCH section.

Trades & wholesales: order@war-arts-productions.com
31/01/2007
Bestial Necromancy - compilation tape
Black Vomit Records have released "Bestial Necromancy vol. 1" compilation tape.
AMOK has been represented with the track "Necropsy Cunt" from the album "Necrospiritual Deathcore".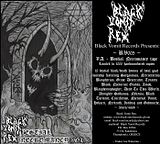 Sales, wholesales & trades: blackvomitrecords@yahoo.com
31/01/2007
Necrospiritual Deathcore - LP version
The LP version of "Necrospiritual Deathcore" has been licensed to Nuclear War Now!
Two new bonus tracks, "Chapel of Embalmment" and "Silent Worship", will be added as a bonus 12"EP with the die-hard edition of the LP release (300 of 1000 copies).
The drums for the tracks have already been recorded, the rest will be recorded during the coming weeks.
A new layout will be designed for the vinyl edition.
<< Previous 1 2 3 Next >>